WELCOME TO THE NEXT GENERATION OF ELECTRIC LONGBOARDS


A note from our founder, Damon Wood:

The Defiant: One is the dream board I've been working almost 10 years to refine and our flagship board here at Defiant. We wanted to define the new standard for the industry and in doing that, built a badass board.

In a world of black and grey electric skateboards with mediocre performance and aesthetics similar to everyone else, we decided to stand out with bold red and raw metal. Then we paired that with the high performance of all premium parts.

But it's not enough to just have a hot looking board with a lot of power. We wanted something more tunable and accessible. That's why the Defiant: One has baseplates that allow you to adjust the truck angles from 50 to 43 and even 36 degrees, three speed modes, and VESC compatibility.

When we say all premium parts, we mean it. From the Boa wheels with Zealous steel built-in bearings to the all hardened steel gear drives, 6396 motors and 930 Wh 12S5P Molicel P42A battery, we made a point to use the best parts around.

But we didn't stop there. We designed a custom deck with the perfect amount of flex, and a durable, flexible enclosure to go with it. Between the flex, genuine Riptide Krank bushings (87a board side, 84a road side), and the soft 76a 100mm wheels, this board provides a very comfortable ride whether set up for carving, for top speed, or anywhere in between.

The Defiant: One was built to put a huge grin on your face from start to finish. With a top speed of around 38mph and a range of up to 40 miles at cruising speeds above 20mph (depending on rider skill and weight), it will simply blow the more typical boards off the road. If you have absolutely any questions about this board or what we're about, feel free to chat us using the chat bot in the bottom right, or reaching out to our team at support@defiantboardsociety.com

See you out there,

Damon
WELCOME TO THE NEXT GENERATION OF ELECTRIC LONGBOARDS

A note from our founder, Damon Wood:
The Defiant: One is the dream board I've been working almost 10 years to refine and our flagship board here at Defiant. We wanted to define the new standard for the industry and in doing that, built a badass board.
In a world of black and grey electric skateboards with mediocre performance and aesthetics similar to everyone else, we decided to stand out with bold red and raw metal. Then we paired that with the high performance of all premium parts.
But it's not enough to just have a hot looking board with a lot of power. We wanted something more tunable and accessible. That's why the Defiant: One has baseplates that allow you to adjust the truck angles from 50 to 43 and even 36 degrees, three speed modes, and VESC compatibility.
When we say all premium parts, we mean it. From the Boa wheels with Zealous steel built-in bearings to the all hardened steel gear drives, 6396 motors and 930 Wh 12S5P Molicel P42A battery, we made a point to use the best parts around.
But we didn't stop there. We designed a custom deck with the perfect amount of flex, and a durable, flexible enclosure to go with it. Between the flex, genuine Riptide Krank bushings (87a board side, 84a road side), and the soft 76a 100mm wheels, this board provides a very comfortable ride whether set up for carving, for top speed, or anywhere in between.
The Defiant: One was built to put a huge grin on your face from start to finish. With a top speed of around 38mph and a range of up to 40 miles at cruising speeds above 20mph (depending on rider skill and weight), it will simply blow the more typical boards off the road. If you have absolutely any questions about this board or what we're about, feel free to chat us using the chat bot in the bottom right, or reaching out to our team at support@defiantboardsociety.com
See you out there,
Damon

"top-tier model built in the US with power and craftsmanship in mind"

"Defiant Board Society introduced its first offering to the e-mobility market and did so without holding back."

"Looks like something off the sunny streets of San Diego, except it flies at 38MPH"

"The boards are handcrafted in the USA, a rarity in an industry dominated by devices made in large quantities in China"
MEET THE DEFIANT: ONE
WHY YOU WANT IT
What makes the Defiant different and why do you want it?
THE DEFIANT DIFFERENCE
After almost a decade of warranty work on every brand you can think of, DIY builds, and meetups with the esk8 community, we built the most badass board we could think of. And then painted it red.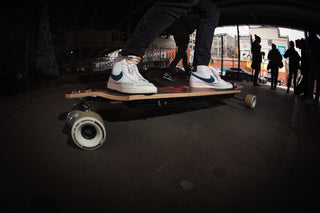 As low as
$270 a month
Get the board you want. Easy financing and low payments available via ShopPay.